Generally, the causes of the failure are:
Ink viscosity is too high;

Is ink film drying too fast;

Is the ink has particles;

Ink flow is too poor;

Is insufficient printing pressure;

Is the Printing Plate sleeve circumference uneven, not smooth and so on.
Treatment methods:
First, ink viscosity should be adjusted between 25~30 S/25℃· coating 4 cups;
Second, ink in printing to add slow dry diluent;
Third, to prevent ink premature drying in the Printing plate hole (add wetting aids);
Fourth, add 1%~3% flattening (e.g. ether) or adjust printing pressure, so that its substrate tension control at 0.05;
Fifth, change or polish printing plate surface.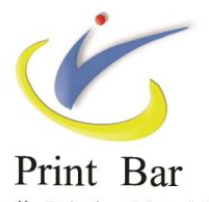 Shanghai Chenjie Printing Material Co., LTD
Business Type:Manufacturer , Trade Company
Product Range:Admixture&Additives , Printing Materials
Products/Service:Fountian solution , Alcohol-free fountian solution , Roller wash , Plate cleaner , Spray powder , Printing plate
Certificate:GS
Company Address:Room 918, 199 jiangkai road,minhang district, Shanghai, Shanghai, China


Previous: Fountain Solution Use Technology